This is important to us in the long term
Certified: Made in Europe

Production and the certified wood comes from the EU. This is not only ethical but also environmentally friendly.

We plant new trees

Together with the "Eden Project" we plant 5 trees for every product sold

Free Shipping

Within Germany, your new cutting board will be delivered quickly with DHL

Helpful magazine articles
American walnut chopping board with juice channel

Regular price

From €69,00

Sale price

From €69,00

Regular price

XXL cutting board made of beech wood

Cutting board oak with juice channel

Sale price

€39,00

Regular price

Beech cutting board with juice channel
Our selection of selected types of wood
beech
Our popular beginner boards made of beech wood
Attractive light grain and hard wood. Well suited for beginners.
Discover now
Oak
Professional cutting boards made of oak
Durable hardwood cutting board for long-lasting cutting pleasure
Discover now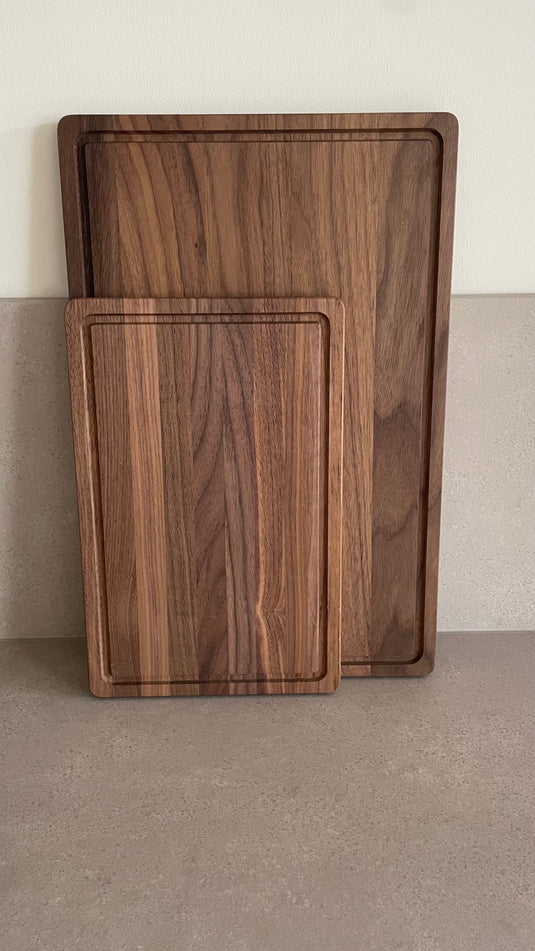 American walnut
The dark noble board made of walnut wood
Very hard wood with great durability and iconic dark wood
Discover now
Pale wood
beech
Classic in a light wooden robe
XXL cutting board made of beech wood

SET: Beech cutting board with handle

Sale price

€80,00

Regular price

€104,00

Beech cutting board with handle

Regular price

From €34,90

Sale price

From €34,90

Regular price

Beech cutting board with juice channel
Thats what our customers say
Fast delivery and we like the board very much.
Good quality at a good price
My walnut board feels even better than expected.
Could have come a little quicker. But the board is impeccable and worth the money.
Noble cutting board in first-class quality. Looks great in the kitchen and is practical at the same time :)
Nice that there is a regional and durable alternative to the plastic boards.
Seit November pflanzen wir Bäume
Below you can see the current status of planted trees that we have already planted.
We started with this in April and are proud to be able to achieve a positive effect
Sprout Total Count Banner Will Appear Here After Save
In focus
North American walnut
The noble walnut not only has a particularly attractive wood color, but also impresses with its blade-friendly wood
More
Our current blog articles
Was macht unsere Schneidebretter aus?

Bei unseren Schneidebrettern legen wir neben dem attraktiven Aussehen und der hohen Funktionalität einen besonders hohen Stellenwert auf Nachhaltigkeit.
Daher pflanzen wir nicht nur bei jeder Bestellung 5 neue Bäume, sondern verzichten auch auf eine ausgiebige Verpackung, sodass der Papiermüll am Ende minimiert werden kann.
Die Schneidebretter kommen aus zertifizierten Anbaugebieten in Europa, außer das Holz der amerikanischen Walnuss, da dieses Holz des Nussbaumes aus den USA und Kanada importiert wird. Hier wird allerdings ebenfalls auf zertifizierte Anbauflächen zurückgegriffen. Darüber hinaus findet die Produktion der Schneidebretter aus nachhaltigem Holz in Polen statt, sodass lange Lieferwege vermieden werden können bei gleichbleibender hoher Qualität des Enderzeugnis.

Da wir Nahe am Kunden sein wollen, freuen wir uns über jedwede Kontaktaufnahme und versuchen diese schnellstmöglich zu beantworten. Bitte entschuldigen Sie, wenn dies manchmal einen Moment dauern kann.