Cutting board oak with juice channel
Durability, hygiene, knife-friendliness, aesthetics and sustainability: these are the features that make this oak chopping board with juice groove a popular choice among amateur and professional chefs.
Sale price

€39,00

Regular price
Sofort versandfertig, Lieferfrist 1-3 Tage
Oak chopping board with practical juice channel
Oak cutting boards are a popular choice among home and professional chefs alike because of several features that set them apart from other types of cutting boards:
Durability: Oak is a hard and dense type of wood, making it more resistant to knife cuts and scratches. This means that with proper care, an oak cutting board can last for many years.

Hygiene: Oak has a closed wood surface, which makes it less susceptible to moisture and germ formation. This makes it a good choice for cutting boards as it ensures a clean and hygienic surface for food preparation.

Knife friendliness: Oak has a dense, hard surface that is gentle on knife blades and helps keep them sharper for longer.

Aesthetics: Oak is a beautiful wood species with a striking pattern, making it a stylish and attractive addition to any kitchen.

Sustainability: Oak is an available and sustainably sourced wood species, making it an eco-friendly choice for a cutting board.
In addition, the juice channel is ideal for collecting the juice from the food to be sliced, so that the surface does not get too wet and the work surface remains clean.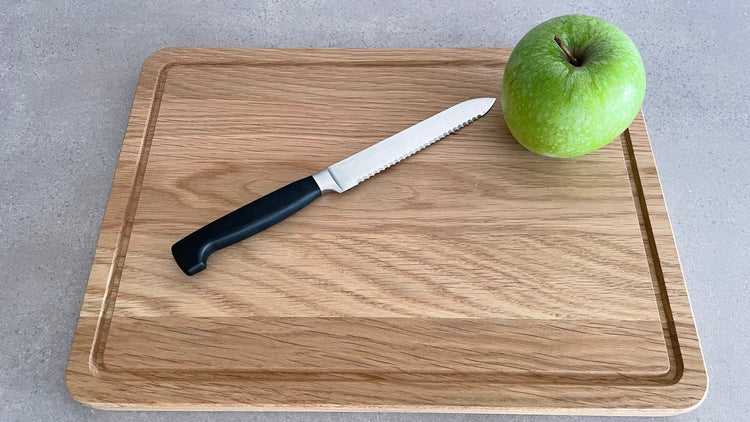 Sprout Total Count Banner Will Appear Here After Save
You might also be interested in this